FOR IMMEDIATE RELEASE
Timmy Award Media Contact:
Lindsay Lewis
lindsay.lewis@workbridgea.com
469.458.9486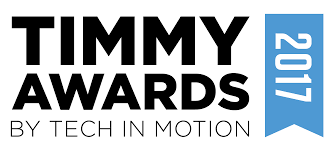 Philadelphia Timmy Awards Selects Webjunto as a Best Tech Workplace for Diversity Finalist
Tech in Motion names top 10 local companies in tech, opens voting to the public to help decide winners
Philadelphia (August 25, 2017) – Tech in Motion Philadelphia announced Webjunto as a finalist for the "Best Technology Workplace for Diversity" category for its Second Annual Timmy Awards, which recognizes the top workplaces for tech professionals. Webjunto, a user experience design and software development agency, joins a list of notable Workplace for Diversity finalists including AGI, Comcast Connected Health and MilkCrate, chosen from a field of more than 100 nominees.
"With more than 60% of our team typically being labeled as minorities in tech, we're psyched to be recognized as a finalist," says Liz Brown, Co-founder and Co-CEO of Webjunto. "We strive to build a supportive community where people of different socio-economic statuses, ethnic and racial backgrounds, gender identities, sexual orientations, religions, and ability statuses can come together and create high quality digital products."
"The Timmy Awards aim to celebrate the companies and managers that make that technological innovation possible," says Mandy Walker, Director of Marketing at Tech in Motion> and Motion Recruitment Partners. "Since the Timmy Awards were created in 2015, over 400 finalists have been celebrated for creating work environments that enable growth in the technology of various industries."
The local community can vote online through September 8 to help choose who represents the best of Philly tech. The winners will be chosen through a panel of expert judges and community votes. A complete list of 2017 Philadelphia finalists for the Timmys can be found here for all four award categories, highlighting tech work culture, workplace diversity and management as well as startups.
Award winners will be announced live at Philadelphia's Timmy Awards on September 27th at 315 Chestnut Street in Old City, where members of the Philadelphia tech community can attend for free and meet the finalists. Previous winners have included innovators such as LearnVest, Venmo, Trip Advisor and many more. For details on the event, past winners, or the Timmy Awards in all 10 cities they take place in, click here.
About Tech in Motion Events & The Timmy Awards
Jobspring Partners and Workbridge Associates in 2011, grew into an organization of over 85,000 members across 11 chapters in North America including Boston, Dallas, New York, Philadelphia, DC, Chicago, San Francisco, Silicon Valley, LA, Orange County, and Toronto. Please visit www.techinmotionevents.com for more information about our notable speakers, sponsors and events.
About Webjunto
From start to finish, Webjunto utilizes design thinking and collaborative design to deliver quality digital products and experiences for startups and enterprises alike. Maintaining a diverse team helps Webjunto to perform better, attract top talent, and make smarter decisions. With a focus on community building, Webjunto also founded The Philly Junto Meetup, an event series for local entrepreneurs, founders, and change-makers. Visit www.webjunto.com for more information about Webjunto.
###