When you're ramping up to develop and launch a new product to market, at some point you will be driven to ask yourself this question: "How do I get users for my startup?" 
This *simplified* case study highlights how we were able to generate 81,700+ page views and 51,600+ users with a $100 budget.
The Challenge:
I began my journey by focusing in on the PokemonGo craze that was sweeping the nation.  The goal was to create a simple tool for PokemonGo players to identify Pokemon sitings on a map.  Similar apps on the market include Pokevision and PokeRadar.  It's important to note that I personally built this over the course of my week long vacation. My father was in the hospital and I had a lot of downtime in the waiting room. None of our designers touched Pokespawn.com – had they, I would guess the numbers accumulated would have tripled. 🙂
Tactic Number 1:
Post to your social media, ask friends to help share.
It's simple really. If you want to spread the word about what you've built, your immediate network of friends, colleagues, and family members are the best people to help you. They want you to succeed, so let them help! Here's what I did:
Posted to Facebook (on my wall)
Messaged my friends who were into the subject matter (Pokespawn), and asked them to share.
Posted to the Facebook Groups that were forming for NEPA
Tweeted and reshared with our company account — EDIT:  CRAP, when I went to grab the link I accidentally deleted my tweet.  Sorry all 🙁
Shared with our friends in the Startup Industry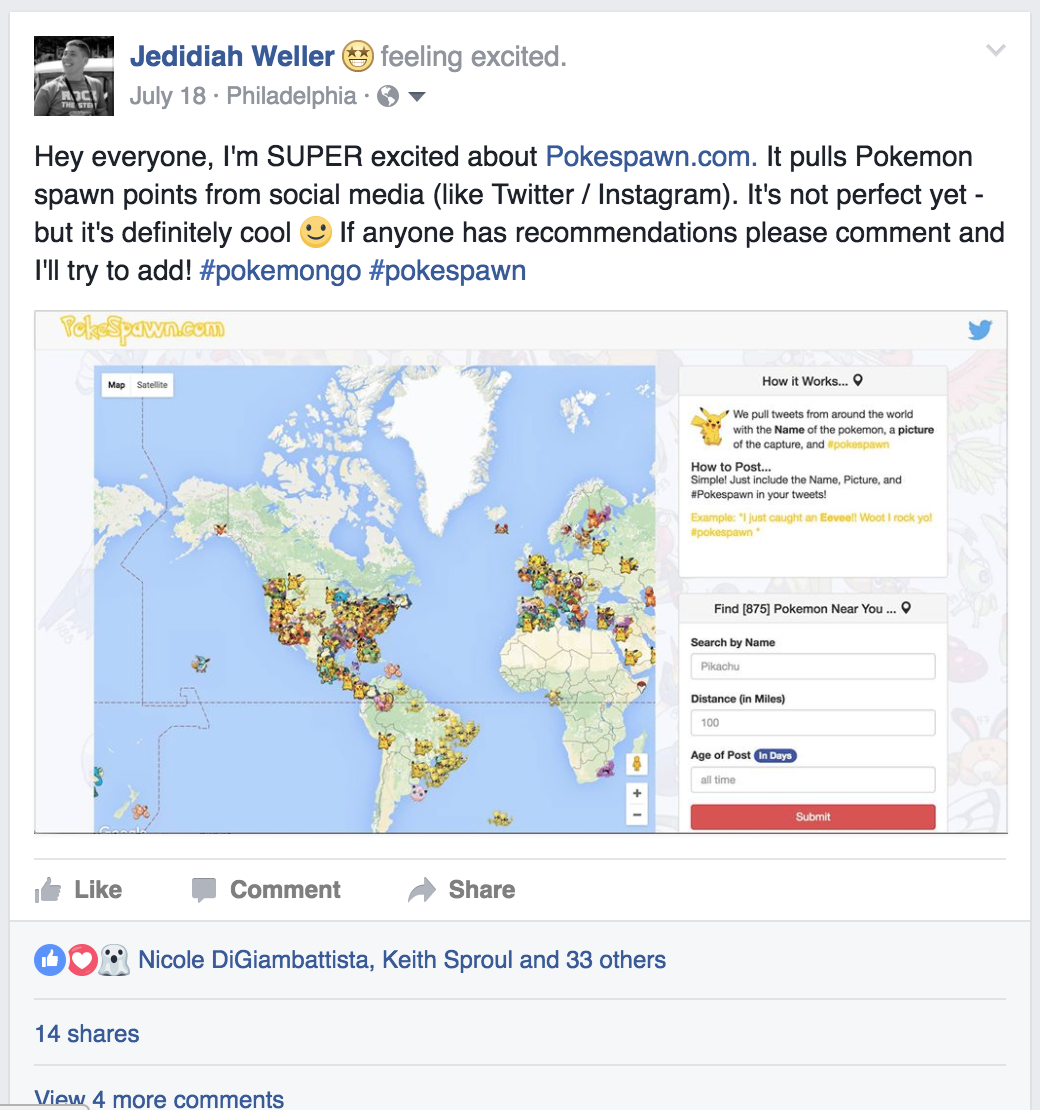 Tactic #2:  REDDIT
So, I never (ever) use Reddit; mostly because I just don't have the time. I do enjoy casually reading the posts but I'm ashamed to say that I never post on Reddit – my karma is like 5.
What does this mean? Well, Reddit uses a Karma system that allows the system to know whether or not you are a valid person or contributor, and therefore, are allowed to post on various subreddits. Additionally, some forums will require you to have a minimum Karma in order to post in their groups. Here is my attempted post that was then deleted.  https://www.reddit.com/r/pokemongo/comments/4tifvh/introducing_pokespawncom_see_crowdsourced_spawn/
I wanted to reach the Pokemon Go sub reddit but was unable to. So, how would I reach the market? Simple – it's Fiverr to the rescue!
By spending $25 on two separate Reddit posters I was able to generate about an extra 1,000 views / day – that REALLY boosted the growth! For any startup, I think this is a budget that is achievable 🙂

And here's what my request looked like: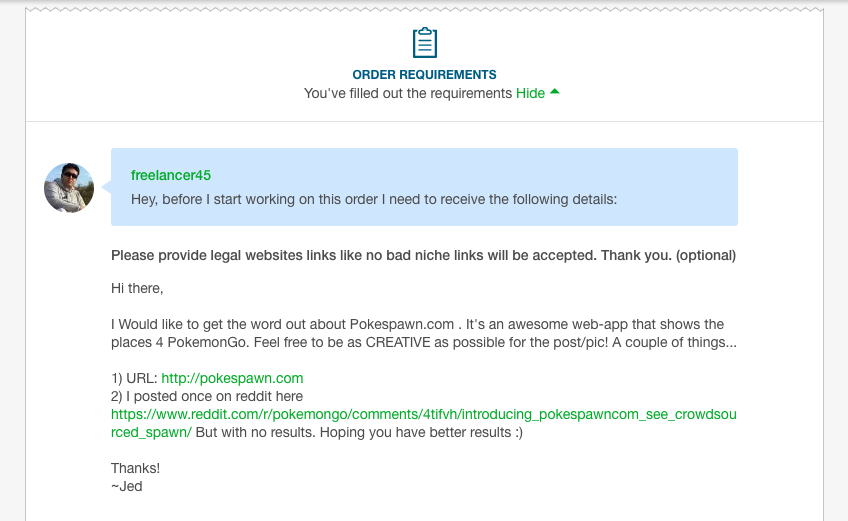 HOSTING COSTS
So, now we know I spent about $25 on advertising,  but what about the rest? How much did it cost to host this platform?
Through the magic of Heroku (we recommend to most of our small clients who are looking to launch quickly) our overall hosting costs for 81,000 views was just $25 / month.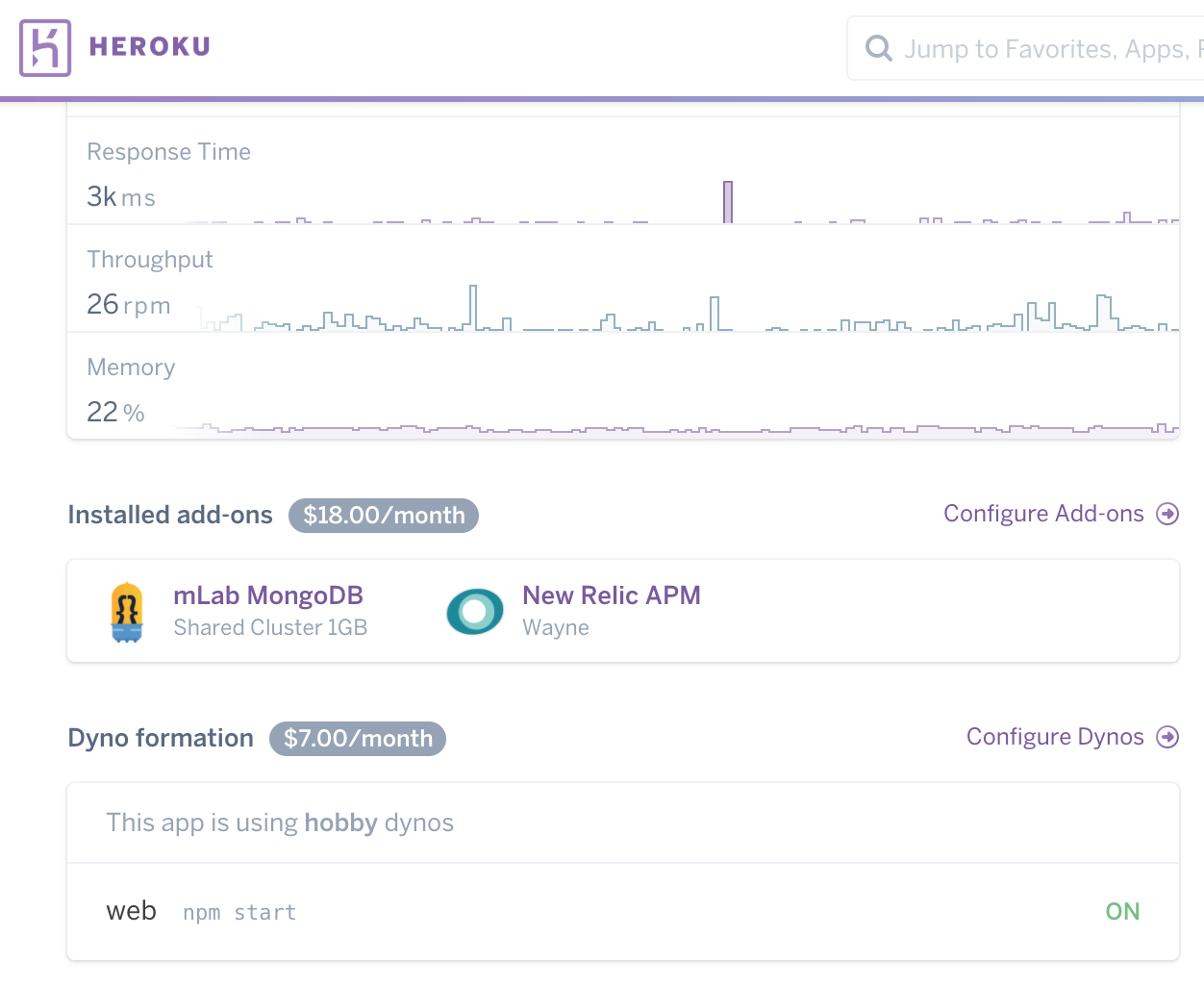 CONCLUSION / WHAT'S NEXT
To sum things up, it took about one week to build this web-app, $25 in marketing, and $25 / month of hosting in order to garner 81,000 page views and 51,000 unique users.
Why was this so successful? Simple: everyone was curious about Pokespawn.com and wanted to jump in on the trend. It's a very common tactic to piggyback on what's trending when it comes to marketing. In fact, understanding current patterns and behaviors is extremely vital to reaching a broader audience.  If you can accomplish such in an ethical and morale way, than I'd highly recommend it.
We'll probably leave Pokespawn.com and the 102,287 tweets up for another month or two, or maybe we'll sell it to someone if they want to attempt to take it to the next level. We're not too concerned with it; we just really wanted to share our findings and cool details for the world to benefit from.
Hope this is helpful! Feel free to reach out to me via twitter @jedihacks with any questions.
Best Regards,
~Jedi